Many parents look tirelessly for a Baby Monitor which they can use to monitor their baby twins, trying to find a reliable and hardy monitor which will last them throughout the most important years of their little ones lives. You as parents, need to be sure that you can fully trust the Baby Monitor in addition to it providing you with crystal clear audio and video capture of your baby whilst you are not in the same room as them.
The Motorola MBP26-2 allows you to keep an eye on your little ones 24 hours a day, keeping you safe in the knowledge that they are safe and sound. The MBP26-2 parent unit is very simple to use and it is also packed full of handy little additional features, making it an even more of a superb monitor!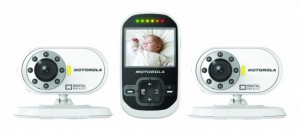 Motorola MBP26-2 Twin Camera Baby Monitor
Each of the Motorola cameras projects a digital crisp and clear image of what they are filming. The camera's also have a fantastic pan tilt and zoom function which can be operated from the parent unit. This handy little feature allows the parent to operate the camera remotely without them having to go and dash into the nursery and manually move it into the right viewing position. The cameras each also have a forward facing microphone which helps to capture every little murmur, gurgle and coo of your baby. Furthermore, the Motorola Monitor also has an infra-red night vision function which automatically comes on once the surrounding lights have been turned off in the room or nursery. The Infra-red is yet another great feature which allows you to watch your children throughout the day or night, letting you know that they are happy, safe and secure.
Viewing your child or twins with this Baby Monitor has been made to be paramount, and every aspect of how you can optimise the viewing of your child has been achieved with this product. The parent unit has a large extra clear 2.4" digital display LCD screen which gives you the clearest captured quality video. If just viewing your children isn't enough, Motorola have also included a two way talk back feature enabling both parent and child to communicate, so if your little one becomes unsettled, you are able to calmly soothe them back to sleep. Also, if your baby does become stressed, there is an LED sound indicator which lights up to show you that noise level of what the cameras are picking up.
Motorola have really thought of every little thing that a parent looks for in a Digital Video Baby Monitor. So if you are looking for a up to date reliable branded monitor then take a look at the Motorola MBP26-2 here – http://www.babymonitorsdirect.co.uk/motorola-mbp26-2-4-digital-baby-monitor.html
If you only need one digital camera, then do not worry, we also have that for you too!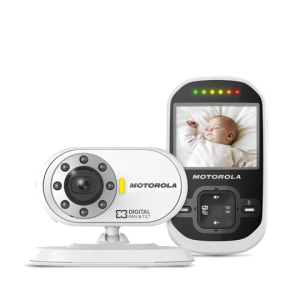 Motorola MBP26 Digital Camera Baby Monitor
Available here – http://www.babymonitorsdirect.co.uk/motorola-mbp26-2-4-digital-baby-monitor.html