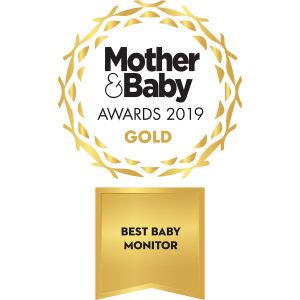 The Wisenet Video Baby Monitor – SEW-3048WP/CU is officially the best baby monitor on the market today, crowned the 2019 Mother & Baby Awards Best Monitor, you can be sure that you are getting the best value for money from this feature packed little camera.
The WiseNet SEW-3048W includes a variety of features to make your life easier. The two-way talkback function is a must-have feature, allowing you to soothe and calm your child from anywhere in your home, and with the astonishing range of up to 900ft, you can be confident you will stay connected, wherever you are in your home. You can view your baby in darkness from up to 16ft  away; this is thanks to the extended and high-quality night vision which turns on automatically the instant it detects low light, making a seamless transition from day to night while remaining non-invasive by utilising non-visible Infra-Red LEDs, offering you safe monitoring throughout the night. The nighttime mode has been improved dramatically compared to previous Wisenet Monitors, now giving one of the best night time viewing experiences from any monitor available today.
The WiseNet SEW-3048W has a battery life of 6 hours, giving plenty of time between charges. 7 integrated sounds and lullabies can help your child gently drift off to sleep and for your convenience, can be controlled remotely, You can also set feeding alerts, to remind you through the night when you need to wake your baby for a feed. The WiseNet SEW-3048W also has the added benefit of live temperature feedback with customisable alerts between 0˚c and 40˚c; the temperature tolerance levels are much more extensive than the standard 12-30˚c offered with most baby monitors, allowing you to create the perfect sleeping environment for your little one.
The innovative and unique design of the wraparound grip will help you to achieve the ideal viewing angle every time, and the Wisenet 3048 comes into its own with cribs such as the Chicco Next2Me (pictured) where there is a limited surface area. You can position your camera in the free-standing mode, or you can utilise the grip to hold onto a variety of surfaces and household items to get the desired camera angle, guaranteeing you that you will always capture your baby's most precious moments.
You can add additional cameras to your monitor set up, making it perfect for a growing family or multiple room monitoring, and thanks to the interconnectivity within the WiseNet brand you have the option of adding additional SEW-3048 cameras with the wrap around grip OR the SEW-3049 Pan and Tilt Camera.
See for yourselves what mums said about the WiseNet BabyView Eco Flex Baby Monitor:
Would you recommend this to other mums?
"I would recommend this product to friends due to the quality of the camera and its ease of use. If you travel, the fact that it comes with EU adapters is a huge bonus! I have had previous monitors and have spent a long time trying to balance cameras on a variety of surfaces to get a good picture. The Wisenet allows the camera to be fixed to the bars of the cot making life so much easier!"
"I would recommend this baby monitor as it was easy to assemble, easy to use and the sound and picture is very clear. The battery life was very good and the range excellent. I was able to sit right at the back of my long garden during my daughter's daytime naps! The camera also looks modern and fits in well in her room."
"Very easy to use and it gives you that peace of mind. I like the design as even though I am a mum I still want a stylish looking product."
How did this product make your life easier?
"This product enables me to see, hear and communicate with my baby while he is sleeping. This makes me much more relaxed as I can see my baby at all times. It is easily set up, and the two-way talk means it is not always necessary for me to go up to my baby which prevents him from getting upset and waking himself."
"This product stops me worrying as much about my son when he is asleep. I can relax knowing that I can just look at the camera to see if he is safe. I can get on with jobs around the house instead of having to run up the stairs to check on him. If I can see that he is about to fall out of bed, I can now prevent that."
"This is the sort of baby monitor I have been was waiting for! I absolutely love it. The picture quality is very clear and the night mode is great as I can see my baby very clearly. The monitor has got lots of different options on it for sounds, lullaby's, brightness and you can even talk to your baby through the monitor. It is fantastic!"
Would you choose this product to win?
"It really helps mums that the camera is flexible. Being able to attach the camera to awkward places so your visibility of your baby can be clear is amazing. The attachment that can be used to be fixed onto the wall is a lovely feature if other places cannot be used. It is clever that when you are travelling/in a new place, you can set up the monitor easily. The flexibility helps with the ease of setting up and give parents that peace of mind."
"I would choose this product over others because of the quality of the sound and camera. Its battery life is long, and the range of its signal is all excellent. It is expensive, but it is worth every penny. Once you have read the instructions and played around with the features, it is actually very easy to use. The option to have the camera on a stand or use the bendable legs to wrap it around different items is brilliant and means installing it is quick and easy."
"The product has a lot of features which makes it a fantastic choice of video monitor. Its modern appearance makes it stand out from others on the market, in addition to the three different ways of attaching/stabilising the monitor. While it is a great monitor, I'm not sure it is worthy of the price tag."