BabyMonitorsDirect Covid-19 Deliveries Update
We would like to reassure our customers that here at BabyMonitorsDirect we are classified as an "Essential Business" and therefore able to serve you as normal. This means we are here Monday to Friday and communicating with our customers via email, Telephone and Live Chat.  We will continue to do so for as long as we have healthy staff and access to couriers that deliver to you. We are taking every measure possible to ensure that safety and wellbeing remains paramount for our customers, our team and hardworking Couriers.
We do believe that it is critical to do our bit to reduce the continuation of COVID-19. We are taking many steps to protect as many people as possible in this constantly evolving situation.
We are consistently following government guidelines and ensuring we match best practice
The customer service team is available to answer any questions you may have about your experience, your delivery and any other information that you may require
Both our Sales and Logistics teams are working tirelessly to ensure the products you want are available and that delivery times are as fast as possible. However, we do have to follow policies of the courier services that we use. We have received the following statements from our couriers:
Royal Mail – Says:
"We will continue providing the best delivery service we can and protect the health of our people, and our customers. We have already made a series of adjustments to our parcel handling procedures. We are keeping ways of working under review.
In order to protect both our people and customers as much as possible, we will not be handing over our hand-held devices to customers to capture signatures. Additionally, for all customers (including those who are self-isolating) where we need to deliver any parcel that won't fit through your door. Having knocked on your door, we will the step aside to a safe distance while you retrieve your item. This will ensure your item is delivered securely rather than being left outside."
Hermes – Says:
"We are making some changes to the way our couriers deliver parcels to offer 'contact-free delivery' right to everyone's doorsteps. These include:
Asking customers to choose a safe place for deliveries. Anybody due to receive a parcel should visit the tracking section and choose 'divert' to select a safe place. This can also be done within the app, within the MyPlaces section.
If a safe place hasn't been chosen but there is somewhere safe to deliver the parcel, then couriers will leave it there, even when there is someone in the property. A photo will be taken and this will be included in the delivery notification email.
For parcels requiring a signature, our couriers can temporarily do this on behalf of the customer to avoid unnecessary contact via hand-held devices. This will only happen when the customer opens the door and gives their name for security reasons. The courier will stay at least two steps away.
If there is no safe place available, please be assured that we will always attempt delivery 3 times."
DPD Says:
"We are no longer asking customers to sign our handheld units and instead our drivers will sign it on their behalf. We will record the consignees name and a 'Delivered on Authority' message in the signature section of the unit.
With this new process you will still get your full track and trace functionality, giving you complete visibility of all your parcels.
This no forms our proof of delivery process for all deliveries until further notice."
DPD International:
"There are countries where non-essential shops and businesses are closed; therefore, we advise you check before shipping that you are able to receive parcels."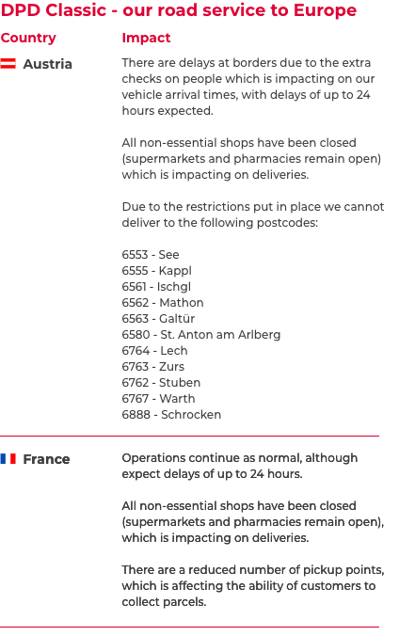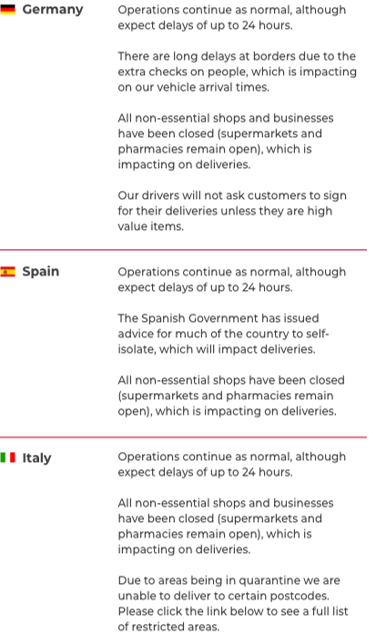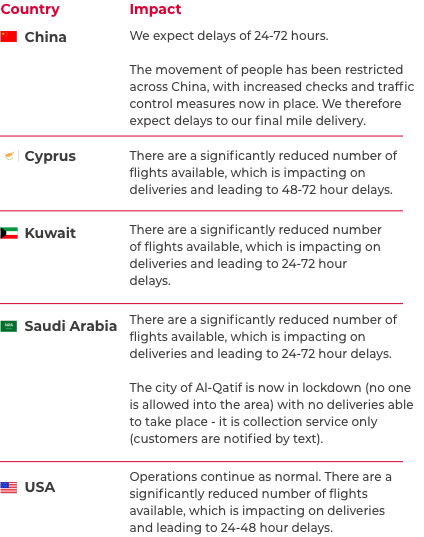 Please note: DPD have now suspended their DPD Pickup service. This means you will not be able to collect parcels from your local shop.
---
We would like to thank all our customers for your understanding throughout this time and please be assured we will do everything we can to answer any questions you may have. Whilst our warehouse is still open and working to a normal schedule you may experience slight delays from the courier; we would ask you to make allowances if deliveries take a little bit longer than usual.
Covid-19 Returns Period Extension
We understand that through these Covid-19 difficult times, you may find it difficult to return an unwanted purchase. Please do not worry, we have extended our returns period to 30th April 2020 and will honour late returns up to that date. Please still ensure the item you are returning is stored in a safe place and returned in unused condition. Please also alert us as soon as you know of your intention to return the product, we will confirm receipt of your communication. The majority of our customer make their own arrangements to return unwanted products, but for large or heavy items we are happy to arrange collection at a fixed cost. Couriers are extremely busy at this time and practice Social Distancing we are not arranging collections until after the end of the current lockdown.
To request a return, please email us as info@oliversbabycare.co.uk ; make sure to include your name, order number, the product and the reason for the return.
Please note: Any purchases made between 21st March 2020 and April 12th 2020, do not need to be returned until 30th April 2020.